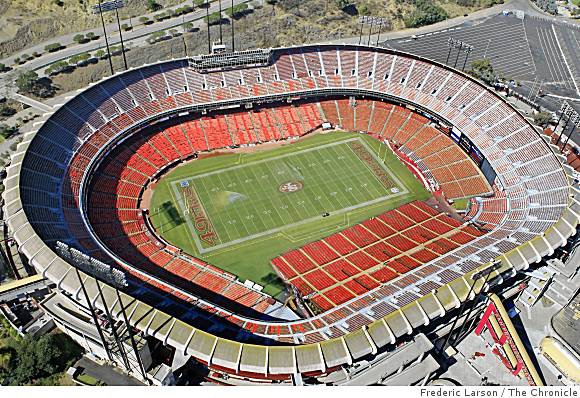 I am 38 years old so I remember the days in the 1980s when sports fans pined over the old stadiums like Crosley Field, Ebbets Field, Polo Grounds and others. Those odd shaped arenas made to fit inside city blocks.
In my day, most of the NFL featured stadiums built in the 1960s and 1970s that were cookie cutter, multi-purpose, sterile and mostly artificial turf. I would never pine for those days of those stadiums. They were ugly for both baseball and football (imagining the giant Hefty bag outfield wall at the Metrodome, the pushed in seats at Riverfront or Three Rivers Stadium), ugly in general (the Kingdome) and dangerous (people tearing knees at Veterans Stadium). Even the most beloved stadiums -- places like Cowboys Stadium and the Astrodome -- were nightmares.
One of the few remaining nightmares has been snuffed out this weekend when the San Francisco 49ers played (probably) their final game at Candlestick Park. Candlestick was built in 1960, hosted both the Giants and 49ers and even one season of the Raiders and at one time had artificial turf. It was known for being windy and chilly and fights outside the stadium. I think of Will Clark and Dwight Clark. Of the 1980s when going into the 'Stick in either football or baseball was a tall task. Montana to Rice. Young to Rice. Clark, Matt Williams and Kevin Mitchell. That camera shaking in the wind.
The 'Stick ... or 3Com Park, Monster Park or Candlestick Point ... surprisingly lasted this long despite the need for a replacement. Plus the great success of the Niners meant they deserved some Cowboy-esque digs. After the Giants left over a decade ago, you thought that the Niners could get something nice.
It was a dump.
They all were. That doesn't mean we cannot remember them fondly. How "Welcome To The Jungle" rained down at Riverfront Stadium. The fear of that defense mixed with Terrible Towels at Three Rivers Stadium. Snowballs being thrown at Santa at Veterans Stadium. Rocking RFK Stadium.
And those domes. King. Silver. Hoosier. Astro. Metro.
We remember watching our NFL players kicking up that baseball field dust. Those stands that were either too close or too far from the action. Weird foul territory for baseball.
Now, only a few remain. The Chargers want to replace Qualcomm Stadium (once Jack Murphy Stadium) after the Padres abandoned it a while ago. Lambeau Field has been redone and looks awesome. Arrowhead Stadium in Kansas City is one of the loudest and still great place to watch an NFL game.
Whatever the name of Oakland Coliseum is now (it is really O.co) is the only stadium used for both baseball and football. Many regard it as the worst stadium in American sports. With The Stick (as well as the Metrodome) gone now, this is pretty much the last of this era of bad MLB/NFL stadiums.
A fond farewell.