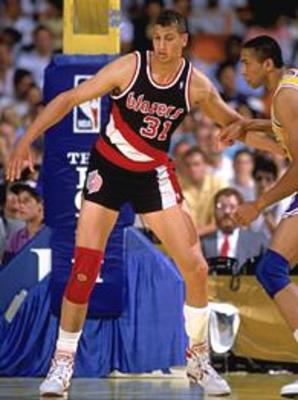 This week, it was revealed that Brandon Roy has bad knees that will most likely plague his promising career. Just another twist of bad luck for a snake-bitten franchise.

The Portland Trail Blazers are not the LA Clippers. They are not the Minnesota Timberwolves. They are not even the Cleveland Cavaliers. The Blazers have a World Championship under their belt and have been to two more Finals.

But it could have been so much better.

Portland has had the No. 1 pick in the NBA Draft four times. Each time, they selected a center. Only one has worked out. That would be Bill Walton, who led the Blazers to the 1977 NBA championship.

The next season after Portland rushed out to a 50-10 start, Walton hurt his foot. Due to what he deemed as poor medical treatment, he demanded a trade out of the Pacific Northwest. And the would-be-dynasty was over.

Their other top picks haven't worked. In 1972, two years before the franchise drafted Walton, they selected LaRue Martin with the top overall pick. He was selected before future Hall Of Famers Bob McAdoo and Julius Erving. Martin played just four seasons and averaged 5.3 ppg.

In 1978, Minnesota's Mychal Thompson would be selected first overall by Portland (Larry Bird would be selected a few picks later). Thompson did okay in Portland, but was dealt to the Spurs after eight seasons. He would later be dealt to the Lakers and helped them to back-to-back championships.

The other top selection was, of course, Greg Oden in 2007. Oden missed what would have been his rookie season with a knee injury. Since then, he's barely shown an ability to stay healthy or to be dominant. It stings even more when a guy named Kevin Durant was selected directly after him.

Sam Bowie wasn't the top overall pick ... but he is regarded as one of the worst draft picks in history. Bowie was selected with the second pick in the 1984 draft -- one spot ahead of Michael Jordan. Charles Barkley and John Stockton was also selected in that draft.

But that isn't all. How about paying for Moses Malone in the ABA-NBA dispersal draft ... then dealing him away for a draft pick. Malone would go on to a Hall of Fame career, winning three MVP awards and one championship.

In 1986, the Blazers selected USSR's Arvydas Sabonis in the draft. He would make his debut in Portland nine years later. The team drafted Jermaine O'Neal in 1996, only to rarely play him and then dump him off before he had an All Star career.

The Blazers are also the franchise that had to deal with the "Jail Blazers" era, as well as dumping Darius Miles due to what they thought was a career ending injury. Miles came back from his injury and, in doing so, became a huge salary cap albatross to the Blazers (even though he was playing with the Grizzlies).

In 2005, the Blazers took Deron Williams with the third pick in the draft. They immediately dealt him to Utah for the draft rights to Martell Webster.

The Roy injury stings just because it may finally dawn on everyone that the Blazers may truly be cursed.