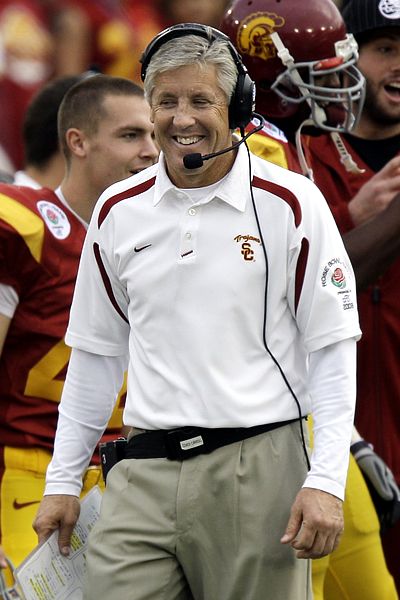 In a week, we will get to see Ohio State and LSU battle for our college football national championship. The BCS system set up that game ... so that's what we are stuck with.
Again, I hate the BCS.
However, if it is going to stay ... then why do we use it only for the title game? Why not for AAAALLLLLLLLLL the bowl games? I just watched USC blow up Illinois and Georgia maul Hawaii in so-called "BCS bowl games". Are they unimportant now?
They picked the friggin' game!
So why not use the BCS formula to give us all the bowl games so teams ranked near each other get to face off. Then sort them out in the bowls with an eye towards proximity and prestige to get this done.
BCS: #1 Ohio State v #2 LSU
ORANGE: #3 Virginia Tech v #4 Oklahoma
SUGAR: #5 Georgia vs #6 Missouri
ROSE: #7 USC v #8 Kansas
FIESTA: #9 West Virginia v #10 Hawaii
COTTON: #11 Arizona State v #12 Florida
GATOR: #13 Illinois v #14 Boston College
CAPITAL ONE: #15 Clemson v #15 Tennessee
OUTBACK: #17 BYU v #18 Wisconsin
CHICK FIL A: #19 Texas v #20 Virginia
ALAMO: #21 South Florida v #23 Auburn
SUN: #22 Cincinnnati v #24 Boise State
INSIGHT: #25 UConn .... expand the rankings for the top 64 teams who are bowl eligible so we can match up all 32 bowl games.