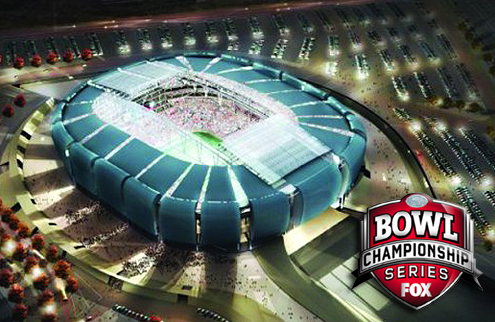 The BCS announcement has come and gone with nothing really surprising. The BCS Show was about as exciting and thrilling as having a seeding show for, say, the NHL playoffs. You're just not the NCAA Tournament show, guys.
BCS BOWL: OHIO STATE v FLORIDA: This is the game that should be for the championship [wanna know why I feel that way....just look below]. Florida navigated thru the best conference in the nation with one loss and the Buckeyes are the undisputed #1 team across the board.
ROSE BOWL: MICHIGAN v USC: The typical Pac-10/Big 10 matchup stays intact wtih both teams pining that they aren't in the national championship game. This will be a great game that's set in a perfect place for such a match-up. Still, we all are going to have to deal with the Wolverines whining that they don't get a 2nd chance to play Ohio State again.
ORANGE BOWL: WAKE FOREST v LOUISVILLE: Two schools who are loving being in a BCS game. Louisville always felt they'd be here...but Wake Forest? This probably goes under the "the only reason people are watching because there is nothing else on".
SUGAR BOWL: LSU v NOTRE DAME: The sad thing is this is probably the biggest mismatch of them all. Notre Dame has done nothing to deserve a BCS bid....except draw fans well. Then they get LSU who is could win the title if there was a playoff and are at nearby New Orleans. The Irish enter the game with an 8-game bowl losing streak.
FIESTA BOWL: OKLAHOMA v BOISE STATE: One good thing the BCS has done is allow easier access for non-BCS schools to get in. Boise State uses the new rule to their advantage. They get Oklahoma who is one the hotter teams in the country despite having a season of bad luck.