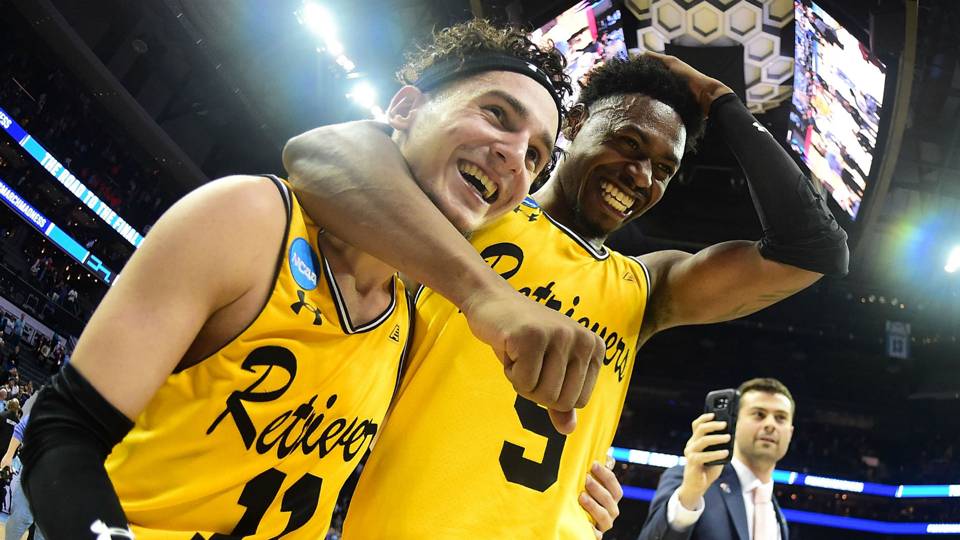 Just a quick recap of what I saw in my Sportz Room -- filled with TVs that I can watch all four games going on at the same time.
GAME OF THE DAY: Nevada vs Texas.
We'll get to that other game in a moment. That Nevada-Texas game was just so good. Both had leads where they felt they had the win. Both made plays to get back in the game. Caleb Martin was huge in this one, the crowd was alive and we got a rather energetic Eric Musselman dropping f-bombs on live TV.
UPSET OF THE DAY: UMBC vs Virginia.
Uh, let's see, who could it be?
CONFERENCE OF THE DAY: ACC.
The ACC went 4-1 today, though everyone will remember that 1. North Carolina and Clemson took care of business while Syracuse and Florida State pulled off upsets. Still ... what happened to Virginia?
CONFERENCE WITH A BAD DAY: ACC.
I've never put the same conference as the good and bad on the same day. But Virginia? You won 20 ACC games this year. You went 17-1 during the regular season and coasted to the ACC tournament championship. The No. 1 team in the country and the top overall seed in this tournament. And you become the first No. 1 seed to lose to a No. 16 seed? They ACC couldn't beat you but a team from the America Easat could?.
DUD OF THE DAY: Florida State vs Missouri.
Neither team evoked confidence heading into this one, but Florida State jumped all over Missouri and made this a sorta blowout. Sure, Mizzou made a few comebacks to get this close, but the Seminoles made quick work of this up-and-down Tigers squad. Not the usual No. 8 vs No. 9 matchup.
DOMINANT PERFORMANCE OF THE DAY: UMBC.
It wasn't just that they beat Virginia, they just blew them out. That Cavaliers defense is so, so good but the Retrievers put 53 points on them in the second half.
UNDERLYING STORYLINE OF THE DAY: It finally happened.
Every year, we heard that one day a No. 16 seed will beat a No. 1 seed. It was out there though no one believes it will happen in that year. There have been a few close calls but it never happened. Teams who earned No. 1 seeds found their main motivation was not being that first team to lose that game. Well, Virginia became that team and, as all before them have feared, will always be that team. This tournament will forever be known as the one where the No. 1 seed lost to the 16-seed. Forever and always.